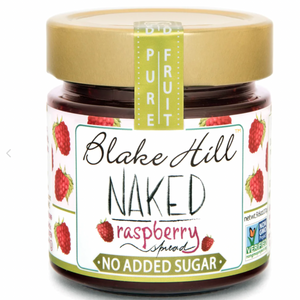 Creme de la Crop
Raspberry Spread- No Sugar Added, Blake Hill
Regular price
$9.35
$0.00
Unit price
per
Gorgeously plump, rich red raspberries will bring you a fresh taste of summer. The naturally sweet and tart taste of raspberries with no added sugar creates an incredibly bright, light, deliciously bold fruity jam.
Spread this pure fruit joy on your breakfast crumpets.  Add to greek yogurt mixed with your favorite granola for a healthy treat.  Top off a Dutch baby pancake, a fun dish to make! 
A NAKED JAM - NO SUGAR ADDED
With no added sugar, artificial colorings, preservatives or sweeteners, our Naked Jam selection offers luxurious flavors in a healthier option. Naturally preserving the taste of summer with all-natural and 100% fruit simmered in pure fruit juice. This collection of artisan preserves has been described to be as light and refreshing as a bowl of fresh fruit!
INGREDIENTS 
Raspberries (raspberries, raspberry juice concentrate), pineapple juice concentrate, fruit pectin (10oz)
---