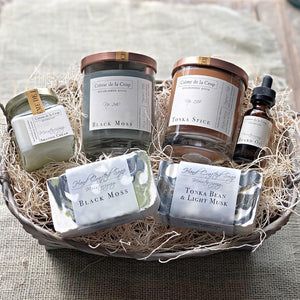 Beautifully Designed, Inspired By Nature
In 2002 Creme de la Crop was founded by Interior Designer Leann Sego on her family's seventy-acre farm. The operation started by growing organic produce known for its beauty and flavor. That passion for farming continues through the Community Supported Agriculture Program.

We also provide a wide range of foods in our on-site farm store you can feel proud to serve your family. Pasture-Raised Meats, Local Treatment-Free Honey, Free Range Eggs, Wild-Caught Seafood, Small Batch Preserves, Pickles, and Sauces are available to everyone year-round.

Nineteen years into the operation, Leann decided it was time to offer more and developed product lines that she was proud to put her designer stamp on. You will now find an extensive product line made in-house, with the finest ingredients available. The Creme de la Crop line consists of Skincare, Haircare, Handcrafted Candles, and Artisanal Soap. We proudly share with you that which we love.
Our Products
Agriculture & Small Batch Foods
Creme de la Crop - Apothecary
Our Farm & Store
Summer Hours: 
Monday, Tuesday, Thursday & Saturday - 10:30 am - 5:30 pm
Wednesday & Friday 10:30 am 6:00 pm
Sunday - 11:00 am - 4:00 pm
Address:
208 N. 250 W.
Valparaiso, IN 46385