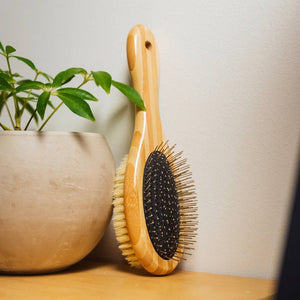 Bamboo Switch
Bamboo Pet Brush
Regular price
$11.95
$0.00
Unit price
per
Plastic-free and vegan dog grooming brush Perfect for all fur coats and grooming needs. The rounded pin side helps separate tangled / matted hair and lifts up dirt and dust. The sisal bristle side helps smooth down the coat after brushing. The bamboo handle is smooth and super comfortable!
Dimensions: 9.25" length 2.75" width
Ideal for: Zero waste/refill stores, gift stores, pet stores, groomers, pet training services, realtors, Co-Ops, housewarming gifts, college send-offs and so much more!
Environmental Impact: This grooming tool won't harm our planet and will look good on your retail shelves. Let's make grooming efficient AND earth friendly!
---