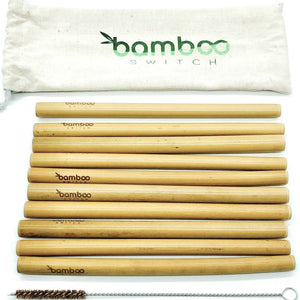 Bamboo Switch
Straws - Organic Bamboo & Coconut Fiber Straw Cleaner
Regular price
$12.95
$0.00
Unit price
per
Each set includes: 10x Bamboo Straws 1x Coconut Fiber Cleaner 1x Linen Bag These bamboo straws are perfect for all types of liquid. They are especially wonderful for smoothies! They do not take on any temperature changes or odors depending on your drink of choice. Being a completely natural product, the diameter dimensions and grains of each straw may slightly vary.
Dimensions: Regular: 20cm in length XL: 24cm in length
Cleaning: When cleaning these, twist the straw cleaner in and out! It's that simple. Ideal for: Gift stores, restaurants, kitchenwares, housewarming parties, college send offs, office necessity, and so much more!
Environmental Impact: Each plastic straw that has ever been produced is still around on our planet and will be for hundreds of years. Eventually, microplastics will be left forever. This bamboo straw is reusable for a very long time, but also completely compostable.
---