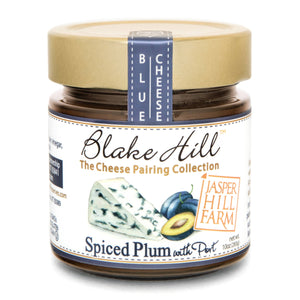 Blake Hill Preserves
Spiced Plum with Port
Regular price
$9.35
$0.00
Unit price
per
Created with award-winning cheesemakers Jasper Hill Farm, this elegant spiced, luscious preserve is composed of juicy plums slowly simmered with raisins, a rich tawny port, apple cider vinegar, and anise.
- Perfect for pairing with the very best blue cheese such as the celebrated Bayley Hazen and its fudge-like texture.
- Create a savory tart filled with this jam, top with cheese, and bake till golden.
Non-GMO | Gluten Free | Kosher | Vegan | Dairy Free | Nut Free | Less Sugar, More Fruit
INGREDIENTS: Fruit (plums, prunes, apples, raisins), pure cane sugar, apple cider vinegar, ruby port, spices (anise, coriander, ginger
---